Conversazioni e interviste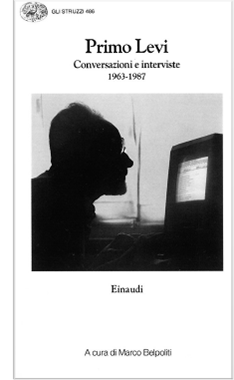 Author
Primo Levi
edited by
Marco Belpoliti
Publisher
Einaudi
Series
Gli struzzi
Year of publication
1997
The English-language edition of this book was edited by Marco Belpoliti and Robert S.C. Gordon. It was published with the title The Voice of Memory. Primo Levi Interviews 1961-1987 (Polity, London 2001; United States edition: The New Press, New York 2001).
The selection of texts and their arrangement inside the book is different from that of the Italian edition. In addition, The Voice of Memory brings to light what today seems to be the first interview that Levi did, his participation in "Round Table. The Jewish Question," conducted in June 1961 by the monthly, Storia Illustrata [History Illustrated].
"The life, books, work, the Lager, Judaism and Israel – these are the topics Levi touches upon in a series of interviews and conversations with journalists, critics, and scholars conducted from the 1963, the year of The Truce, to 1987. These are answers that make up a significant comment that Levi makes on his own works, the comments not only of a witness with the highest moral and civil sense of awareness but also of a great writer. Levi does not shy off from questioning. He explains, distinguishes, and discusses, thus extending his art of story-telling and remembering through these interviews and taking on the political and moral issues of our century with painful clarity and a tightly strung sense of civil duty".
Back cover Einaudi edition, 1997.