Dialogo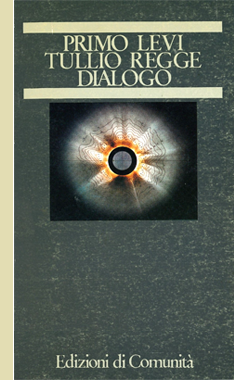 Author
Primo Levi - Tullio Regge
Publisher
Edizioni di Comunità
Year of publication
1984
The Conversations between Primo Levi and the Turin physicist Tullio Regge were published for the first time in December 1984 by Edizioni di Comunità, a publishing house founded in the 1940s by the industrialist Adriano Olivetti.
"Even though they lived in the same city, Primo Levi and Tullio Regge had never had occasion to talk to each other. At Regge's suggestion, they met in June 1984 and this spontaneous, free-flowing conversation was recorded, touching upon a varied range of arguments with great freedom – the years of their early education and relationship with school, what they read, their professional experiences, the responsibilities of the sciences, the future of mankind, the birth of the universe, the most recent hypotheses of contemporary physics (from elementary particles to cosmology) as well as the various stages of the scientific 'romance' that consisted in the articulation of the theory of relativity and the debate that it provoked. Levi talks about how the sciences affected his activity as a writer. Meanwhile, Regge re-evokes the great characters that he met during his long stay at Princeton, such as Gödel, Heisenberg, Oppenheimer, and Dyson, while the figure of Einstein was always looming in the background. The dialogue proceeds full of surprises, phantasmagorical hypotheses, curiosities and humor, offering us quite a few features of an involuntary self-portrait of the two authors. Massimo Piattelli Palmarini wrote this when this book came out, 'This little book took a couple of hours to read, but these were hours that came from heaven. This is one of those reads that reconcile us with existence and, for an instant, make sense of it'."
Back jacket Einaudi edition 1994.