If This is a Man - The 1947 version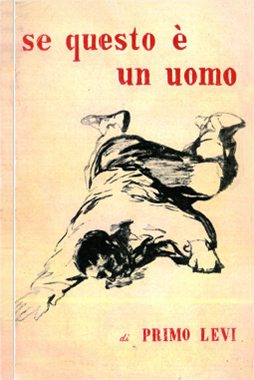 Author
Primo Levi
Publisher
De Silva
Series
Biblioteca Leone Ginzburg
Year of publication
1947
If This is a Man, Primo Levi's first book, was first published by the Turin publisher De Silva in the fall of 1947. How the first version of this book was written, how it came to be published, and how readers received it were the result of circumstances that mapped out an uneven road full of surprises. Here, we can go down this road again with the aid of a wealth of images and rare texts.
1. The "first-born" book
2. A book "written right away"
3. Places, dates, genres
4. Publishers' refusals and leads
5. Franco Antonicelli and De Silva Publishers
6. Critical reception
7. Two long-distance dialogues, two literary prizes
8. Provisional epilogue
1Mladen Machiedo, "Riječ će preživjeti. Razgovor s Primom Levijem" [The word will survive: Conversations with PL], Republika [Zagreb]», 1 Jan. 1969, pp. 47-48. The conversation took place in Turin 28 Oct. 1968 and was anthologized in Primo Levi, Opere complete, ed. Marco Belpoliti, vol. III, Conversazioni, interviste, dichiarazioni, (Torino: Einaudi, 2018), 32 (30-34). See Carlo Paladini, "A colloquio con Primo Levi" (Pesaro, 5 May 1986), Lavoro, alienazione, criminalità mentale. Ricerche sulle Marche tra Otto e Novecento, ed. Paolo Sorcinelli (Ancona: Il lavoro editorial), Nov. 1987 (Quaderni Iders, n. 6), 147-59; now in Levi, Opere complete III, 668 (667-81).
2Incontro con Primo Levi, Leo Club, Cuneo, Sept. 1975, in Levi, Opere III., 68 (64-77).
3Anna Baldini, "La memoria italiana della Shoah (1944-2009)," in Atlante della letteratura italiana, eds. Sergio Luzzatto & Gabriele Pedullà, vol. III, Dal Romanticismo a oggi, ed. Domenico Scarpa (Torino: Einaudi, 2012), 758-63.
4Primo Levi, Se questo è un uomo, versione 1947, in Opere I, 108; If This is a Man (London: Penguin, 2002, 1979), p. 148.
5Opere I, 36; ITIM, p. 61
6 Alberto Cavaglion, "Leonardo ed io, in un silenzio gremito di memoria": Sopra una fonte dimenticata di Se questo è un uomo," conference paper at Convegno Primo Levi: memoria e invenzione, San Salvatore Monferrato, 26-27-28 Sept. 1991; now in acts of conference (same title), ed Giovanna Ioli, (San Salvatore Monferrato: Edizioni della Biennale Piemonte e Letteratura 1995), pp. 64-68.
7Matteo Fadini, Su un avantesto di Se questo è un uomo (con una nuova edizione del Rapporto sul Lager di Monowitz del 1946), Filologia Italiana 5 2008 [but 2009], 222‑35.
8 Primo Levi (with Leonardo De Benedetti), Così fu Auschwitz. Testimonianze 1945-1986, eds. Fabio Levi & Domenico Scarpa (Torino: 2015, Einaudi), pp. 3-30 (text), 145-58 & 205-8 (comments and notes); Auschwitz Report (London: Verso, 2006).
9Levi, Opere I, 1177-94.
10Il mestiere di raccontare, trasmissione Rai ed. Anna Amendola & Giovanni Belardelli, 20 May 1974; this is the first of three episodes dedicated to Levi. We thank the Archivio Nazionale Cinematografico della Resistenza, Torino.
11Primo Levi, The Periodic Table (New York: Penguin, 2000;1975), p.127.
12 Marco Belpoliti, Note ai testi, in Levi, Opere I, 1455-56.
13Jean Samuel avec Jean-Marc Dreyfus, Il m'appelait Pikolo. Un compagnon de Primo Levi raconte. (Paris: Laffont, 2007), p. 87.
14 Levi, The Periodic Table, p. 126.
15Samuel-Dreyfus, Il m'appelait Pikolo, pp. 95-97.
17Sergio Luzzatto, "Lettere a Pikolo" (Corriere della Sera, 18 Jan. 2008), in Id., I popoli felici non hanno storia (Roma Manifestolibri, 2009), pp. 253-55.
18 See Marco Belpoliti, "Levi: il falso scandalo," La Rivista dei Libri X, 1, Jan. 2000, pp. 25-27; Domenico Scarpa, "Storie di libri necessari. Antelme, Duras, Vittorini," in Id., Storie avventurose di libri necessary (Roma:Gaffi, 2010), pp. 165-202; 425-34; cf. Robert Antelme, On the Human Race (Marlboro: Marlboro Press, 2003).
19The entire text of this letter first appeared in the appendix of Massimo Bucciantini, Esperimento Auschwitz (2011), which is now in the anthology Lezioni Primo Levi, eds. Fabio Levi & Domenico Scarpa (Milano: Mondadori, 2019), pp. 89-90.
20 See Album Primo Levi, eds. Roberta Mori & Domenico Scarpa (Torino: Einaudi, 2017), pp. 70-71.
21Italo Calvino, "La letteratura italiana sulla Resistenza," Il movimento di liberazione in Italia I, 1 (July1949), now in Id., Saggi 1945-1985, ed. Mario Barenghi (Milano: Mondadori, 1995), p. 1499 (1492-500).
22 Levi, The Periodic Table, p. 153.
23 Giulio Goria, "Sono diventato ebreo quasi per forza: Conversazione con Primo Levi," Paese Sera, 3 May 1982), in Opere III, 255 (252-55).